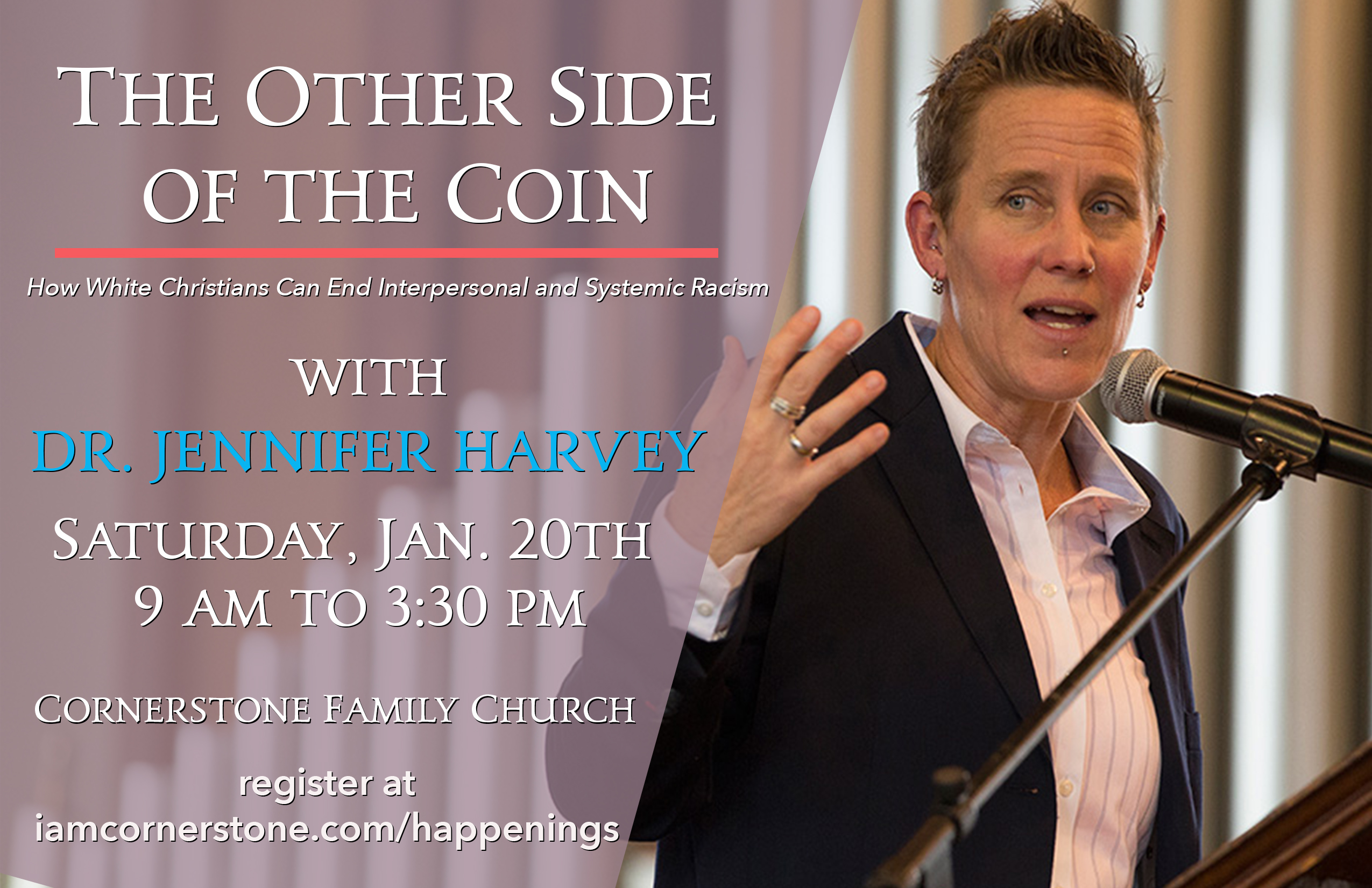 THE OTHER SIDE OF THE COIN: How White Christians Can End Interpersonal and Systemic Racism
January 20th, 2018
$0 - $25
When it comes to racial justice, we typically focus our attention on people of color. This focus is appropriate. But, engaging in deep thinking about the relationship of white people to racism is also critical work and is work we do much less often in our communities.
This seminar is open to people of all racial and ethnic identities who want to explore the challenges and possibilities white identity poses for white peoples' ability to sustain robust and creative anti-racist activity in solidarity with people of color. The goal is to enable stronger and more authentic multi-racial community.
As part of CFC's 2018 Bridge Building Series, we are excited to host Rev. Dr. Jennifer Harvey on Saturday, Jan. 20th from 9 am to 3:30pm. We hope you'll join us for this inspiring, educational and empowering time of insight.
Cost is $25 per individual or $40 per couple. Registration fee includes Rev. Dr. Harvey's book "Dear White Christians," lunch and childcare (if needed).
Alpha Course
January 23rd - March 13th, 2018
Alpha I: Alpha is great for new Christians, people new to Cornerstone, people who are searching for answers about life, Christianity and God. Alpha is a place where you can come and ask those questions that you have about life. Is there more to life than this? How can I resist evil? How Does God guide us?
Alpha II: Have you recently completed the Alpha Course? Take the next steps in your Christian journey with Alpha II – learn how to live the Christian life positively, practically, and joyfully.
Cost: FREE! Dinner served at 6:15pm followed by learning and discussion finishing up at 8:30pm. Childcare Provided (donation for childcare requested)
BRIDGE BUILDING GROUP STUDY: What LIES Between Us
January 31st - March 7th, 2018
$0 - $15
To be effective bridge builders, it is important to better understand that which has caused division. Because most of us don't know the whole story of race, we lack the ability to move forward in grace-filled bridge building. The "What LIES Between Us" group study will guide us through a foundational race education, self-reflection and group discussion that will help foster healing and change within ourselves and our community.
· Video series "Race: The Power of an Illusion" with accompanying book "What LIES Between Us" by Dr. Lucretia Carter Berry.
· Majority of discussion will be about what we learn, not what we think we know.
· $15 includes a workbook for each participant.
· Children's Ministry provided for infant through 6th grade.
· Jr. & Sr. High Students are encouraged to participate in the group study.